For the problem solving group, see The Problem Solverz (group)

The Problem Solverz (originally titled Neon Knome) is an American animated television series created by
Ben Jones
, a member of the art collective
Paper Rad
, for Cartoon Network. The series centers on the titular
Problem Solverz
trio of
Alfe
,
Roba
, and
Horace
, as they solve and sometimes create the various problems that plague their town. After the original pilot Neon Knome was rejected by Cartoon Network's late-night programming block Adult Swim, it was picked up and re-tooled by the main network, which premiered the series on April 4, 2011. Most people hate the Problem Solverz, because the colors are too bright. Some say it should've been on Adult Swim, but people say it doesn't work for either network. Unaired season two episodes of The Problem Solverz are now available to watch online on Netflix, and thus, The Problem Solverz got cancelled on March 30, 2013.it aired again from December 18 2014 to early 2016
Characters
Edit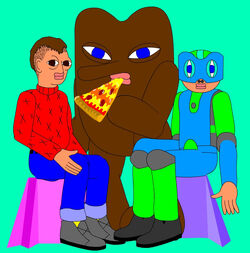 It was originally supposed to Adult Swim show named Neon Knome, but along with "The Amazing World of Gumball" as Gumball, it got rejected for looking too mind-blowingly cute, so it was given to Cartoon Network.
This was the first official TV series from Paper Rad.
People hated everything about the show, the colors, how they look, how they sound.
Like Teen Titans, The Amazing World of Gumball, and a few other shows, Problem Solverz was also influenced by anime.