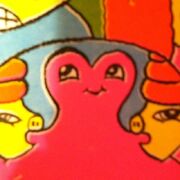 Paper Rad is a Pittsburgh, Pennsylvania/Providence, Rhode Island art collective that makes comics, zines, video art, net art, MIDI files, paintings, installations, and are in a variety of bands. The three primary members are Jacob Ciocci, Jessica Ciocci, and
Ben Jones
.
Although they continue to publish their own zines, music, and online content, Paper Rad have shown at several major galleries including PaceWildenstein, The New Museum of Contemporary Art, and Deitch Projects. They also published a book, Paper Rad, BJ and da Dogs in late-2005 as well a DVD on Load Records in 2006 (Trash Talking). Paper Rad's video works are distributed by Electronic Arts Intermix.
Problem Solverz To the Television
Edit
Paper Rad and Load Records released Trash Talking on DVD in 2006. The TV pilot shown in this DVD was Gone Cabin Carzy. That pilot didn't actually become highly popular, but it was green lit into an official TV show. Ben Jones also collaborated with PFFR on a pilot for Adult Swim titled Neon Knome, but rejected for looking too cute. It was passed by the network and went on to become rebranded as a Cartoon Network original show called The Problem Solverz.